One of my exploratory travels which took me away from myself began in the March of 2008. When my photographer friends and I agreed to meet in Buenos Aires, the capital city of Argentina; I was not only excited about crossing a huge ocean, but also about crossing over to the the southern hemisphere.
Before traveling to a culture that I was a stranger to, I had to make careful preparations. I am not talking about underwear and deodorant. I generally prepare those at the last minute. I started by reading Oya Ayman's book titled "The Continent Under The Hat". After a few weeks accompanied by books of the Argentinian poet, short-story and essay writer Jorge Luis Borges, a Spanish learning set, Argentinian movies, Che Guevara, Carlos Gardel, Astor Piazzolla and Mercedes Sosa, we flew to Buenos Aires via Italy. I am saying we, because my cousin decided later on to join me on the trip.
As soon as we landed in Buenos Aires, we started to check out the travel agencies in the airport for tickets to Patagonia in the following week; however, we had traveled in the peak season and all the flights were full. At last we found available tickets, but on separate flights. Therefore we had to change our travel plans and travel separately.
Among the places worth seeing in Buenos Aires, the city of tango and football, were the old port district of Caminito with its colorful houses and the Recoleta cemetery adorned with wonderful statues, which is also home to the grave of Eva Peron. In Florida Street and San Telmo, you can come across couples dancing the Tango in the middle of the street. If you want to watch more, you can attend a show with dinner. As one of the world's topmost meat producers, red meat plays a very important part in Argentine cuisine. If you are not a vegetarian, you won't be able to get enough of blood sausages and thick steaks.
When you have come all the way down here, you cannot leave without attending a River Plate and Boca Juniors game. These teams have the largest and most fanatical fanbase in the world, therefore the excitement and stress reach peak levels during their games; although I cannot say the same goes for me, since I was busy taking photographs throughout the game.
After Buenos Aires, I reserved the second part of my trip for Patagonia. Just like Middle East, Patagonia is the name of a region. I am talking about a region that includes the southern regions of both Argentina and Chile, with a total population that is not more 2 million; however, with a surface area that is greater than that of France.
My first stop is Bariloche, which looks like a lakeside resort town. As is in the rest of Patagonia, mountain trekking is one of the most popular activities here. I went to the state tourism office for more detailed information on the region. When they learned that I was looking for a trekking guide, they told me that I did not need one. I determined my trekking route using a map I obtained from there. Apparently, I could reach the Frey shelter with a 3 hour trek. I woke up early the next day. I reached a village using a municipal bus. Then it was time to start trekking. Considering that they said it would take only 3 hours, my walk started quite optimistically, thinking that it could not be that hard. However, when I reached the middle of a vast, deserted steppe with barely discernible paths and where the eagles in the sky were the only visible sign of life, I started to feel a little anxious. I kept my spirits high and continued to take photographs while walking. When I encountered forks in the road with signs that I could barely decipher, I continued on by listening to my inner-voice. When approximately 3 hours had passed without me reaching anywhere or even encountering another soul, I began to feel deflated. When I began to think that I could go back the way I came if worst came to worst, a hiker coming down the opposite way told me that I was on the right track and put my mind at ease.  When I arrived at my target destination 6 hours later, I resembled a toy in a battery commercial; you know, the one that had used a bad quality battery and ended up dragging itself on the floor. I had to spend the night at the cabin that I had reached. Besides me, there were a few Australians and Uruguayans there. The next day, I made the journey back to Bariloche with Geoff, an Australian I met there.
I traveled a bit more south to El Calafate, again by plane. There are two important reasons for my visit here: Perito Moreno glacier and Torres Del Paine national park. There are various tour companies in the city that will take you to both of these destinations. Perito Moreno Glacier is about an hour's distance from Calafate. The average temperature of the region during the summer is between 3-12 degrees, going down to about -8 degrees in the winter months. Perito Moreno Glacier, with its frontal ice wall, which is 257 kilometre square in size, thirty kilometre in length, about 4 kilometre in width and is sixty metres above the surface of the lake, offers an indescribably beautiful view from afar. I did not contend with simply watching it from afar and joined a group in order to walk on its surface. In the company of a guide and equipped with special shoes and gloves, we went on a dreamlike journey which lasted for about an hour.
The next day, the bus that would take me to the Torres Del Paine national park arrived very early in the morning right at my hotel. We had to cross over to Chile in order to get to the National Park. We arrived at the park after a 3-4 hour ride. The park should be explored on foot over the course of a few weeks; however I was only able to spare a day of car ride. Although an inexperienced hiker could get into a lot of trouble in this park. This is because the weather conditions can change dramatically in a short amount of time; such that a sunny weather can instantly give way to icy winds that can cut through you. The park is 242,000 hectare in size, and contains 248 kilometers of hiking paths.  You can encounter different wildlife species such as guanaco, puma, eagle and fox in Torres del Paines, which was declared as a Biosphere Reserve by UNESCO in 1978.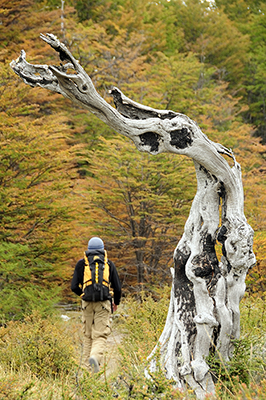 After the national park I went to El Chalten, which is about a 4-5 hour bus ride away from Calafate and is one of the most famous trekking centers in Argentina. Taking a photograph of the Fitz Roy mountain's summit, which captured my eye as we were approaching the city from afar, became one of my greatest ambitions in this journey. First, I browsed through the stores for postcards showcasing the peak's photographs in order to determine which direction and angle of light resulted in the most successful photographs. I found a hill that enabled me to observe the peak easily and watched the motion of the sun and light. The next morning, I climbed the hill before sunrise and was able to take the photograph I wanted as the sun started to paint the peak with its red rays.
During the 3 days I spent in El Chalten, I took daily walks to the surrounding lakes. The environment is so clean that the lakes had signs stating that the lake water is drinkable. I believe that a few weeks, let alone a few days would not be enough in order to do justice to the El Chalten region, which has perfect environments for camping.
I left Argentina with the sound of tango in my ear, the taste of steak on my tongue, the sight of incomparable nature before my eyes and the memory of beautiful moments spent with my friends in my heart. Here is hoping to see you again…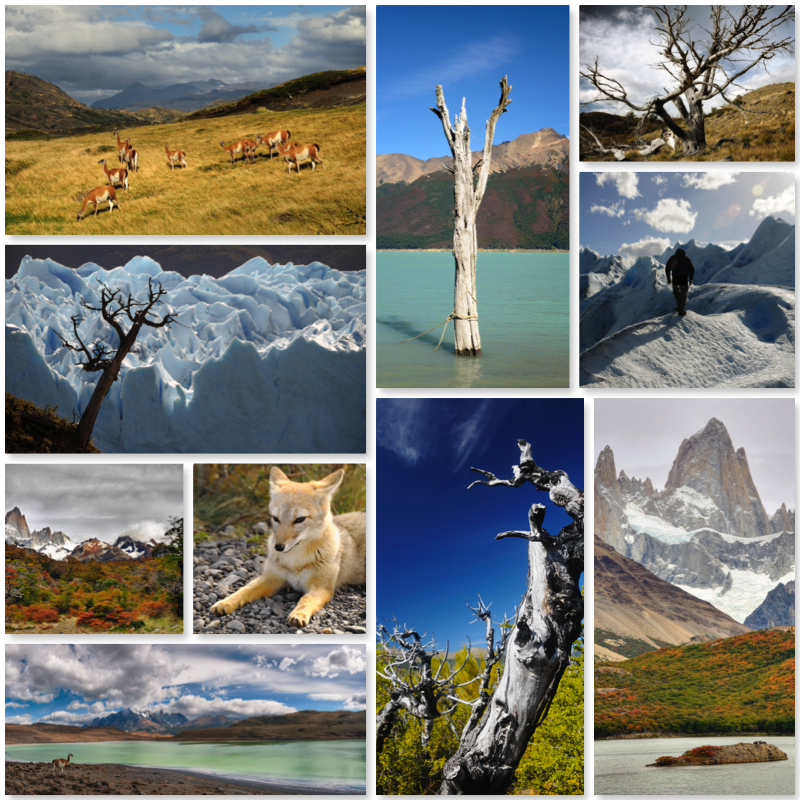 (Visited 330 times, 1 visits today)