I experience my most peaceful moments during my flights. Flights are the moments when I feel that we all advance on a path that is drawn before, even though we try to draw our own path with our own free wills. There is no cellphone, you do not have much of a chance to intervene with your life… You just have to sit and wait patiently until the plane takes you to your destination.
So again I'm at one of those trips. This time the destination is a metropolis in the Far East: Bangkok. We are setting off on an 11 day trip towards places that became estranged in the globalizing world. We start from the most maiden one Cambodia and continue our journey with Vietnam and Thailand.
Cambodia
In Cambodia we see the stone city which is one of the wonders of the world. Leftover from 9th century AD, Angkor is a city made of stone and in which you can see the traces of magnificient creativity, with gigantic temples glamorized with embossments and sculptures After the Khmers leave this city in 1432, this region was forgotten. The French explorer Henri Mouhot seeks out this city which became a legend throughout the centuries and discovers it in 1860. In 1992, UNESCO includes the whole city in the World Culture Heritage list .
We complete Cambodia visa processes at Siem Reap airport. We don't encounter many cars or buildings until we reach our hotel. It's very hot. Our environment is full of tropical trees that grow on plain areas. Our hotel is much better than we thought. Our guides warns us in advance by saying there are many places that we should see.
During our stay in Cambodia, we visit many magnificent and exotic temples with admiration. Even the crowd of tourists couldn't dispatch us from the effect of that spiritual environment. I notice that for the first time I've taken this many photographs in a such short period of time. My camera is almost overheating.
Cambodia is a country that has started to develop in tourism.  While we were there, the construction of big hotels section for Angkor was about to be commenced. I see Angkor as a place that must be visited as soon as possible; as the increasing number of tourists might spoil the visit.
We spend our final hours in Cambodia at the swimming village. On the Mekong delta which overflows in rainy seasons and shrinks in other times, people had found an easy method and decided to build their lives on the river. Grocery stores, schools, tailors… Everything is built on the boats on the river. In this village where the poverty pushes the limits of our imagination, everything costs 1 dollar. Kids who swing by the corner of our boat show what's in their hands and say 1 dollar. If you want to feel peaceful at that environment, you need to re-consider your understanding of divine justice.
Vietnam
We start our Vietnam visit in Ho Chi Minh City. It takes its name from Vietnam's founder Ho Chi Minh. Saigon, as the Westerners call it. It's an extremely crowded city. There are really few cars. Everyone is on their bikes and in a rush to go somewhere, just like ants. It really surprises us that in this extremely intense and fast traffic, nobody even touches each other let alone crashing. There are motorcycles on each street's corner which work as taxis. I can't resist and I hop in to one of them. It's like rafting on tarmac.
Vietnamese people and the country has suffered a lot for long periods of time. As everyone knows, their last war was with America. They've concluded this guerilla war in the tunnels which they've dug underground, with a victory. Let alone going around in these tunnels where this war was fought, we even struggle to get in there. We know the war as the Vietnam war from the American movies. But the Vietnamese call it as a campaign of independence which is carried out against the American Imperialism. Even though it happened in the recent past, we don't see any hate against Americans in their behavior, maybe as a result of the forgiveness philosophy of the East.  During the small talk with the Vietnamese guide, I find out that his uncle has died in this war as well.
Halong bay is one of the most influencing places for me in Vietnam. The time almost stops in the wooden boat which advances through a layer of fog between the steep slopes in the middle of the sea, just like the back of a dragon. It's a place to be seen before you die.
We taste the delicious foods of the Vietnamese cuisine throughout our journey. Most of the dishes are made of sea food. To understand the country you are visiting, apart from communicating with the locals, you have to watch their theatre, listen to their music, read their history and most importantly, eat their food as well.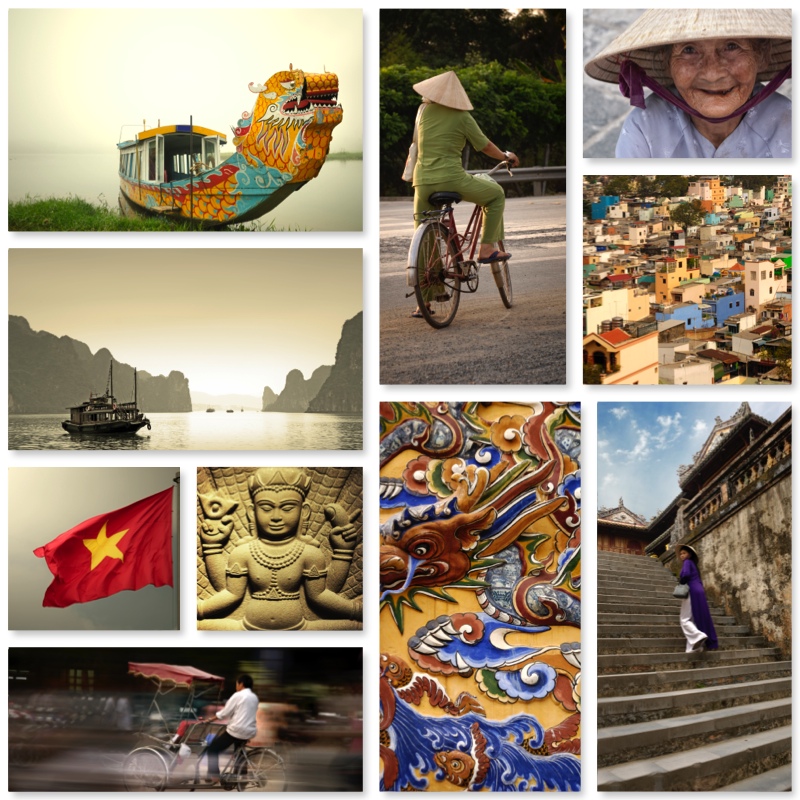 Thailand
When we arrive at the capital of Thailand, Bangkok, we start our journey with the swimming bazaar which is a classic tour. It's a traditional bazaar which is a left-over from the days when the villagers sold their products on the boats and used the river as a road. However, it is slowly becoming a touristic bazaar which loses its feature over the time.
With its golden temples and Buddha sculptures that are also made of gold, Bangkok is a famous and a big city. The city is so crowded that these historical artifacts are concentrated on very narrow places. Taxi is the easiest way of transport and it's not very expensive. However they don't want to charge the customers with the taximeter. Prostitution is very common in this city. From the window of a taxi waiting at the red light, a 10 year old girl wearing make-up reaches out. Right behind her is her owner which appears like he isn't really involved, slants towards us. It's one of the moments that we experience both pity and hate.
Thailand is famous for its massages. I prefer foot massages. You sink back in a comfortable chair and your feet are massaged for two hours. Some special aromatic lubes are used during this massage. When the massage is finished, you relax with a cup of hot tea. It's an experience that shouldn't be skipped.
I would always ask myself; "What did you do today that you haven't done before?" If I don't have an answer for that question, that day is a wasted day for me. I finish my journey, during which I've chased the adventure, with the peace of experiencing many first times.
(Visited 136 times, 1 visits today)